While some people feel very comfortable behind the wheel and very much enjoy the driving experience, other people can feel very anxious when driving. Why do some people find that driving makes them feel this way? Does this anxiety influence their driving behaviour? And can this anxiety be reduced to help people feel more confident and thus improve driving safety?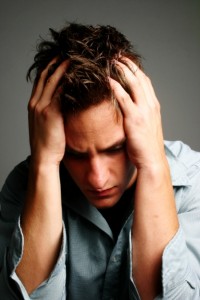 Research examining driving anxiety has typically examined two groups of anxious people: those who become anxious after a specific traumatic incident such as a car crash and those who are prone to driving anxiety with no specific cause. One of the key researchers in this area is Dr Joanne Taylor from Massey University in New Zealand. She has found that there is actually little difference in driving behaviour and levels of driving anxiety between these two groups.
There are, however, differences in driving behaviour between those who have driving anxiety and those who do not. Taylor's research has shown that people with driving anxiety are likely to have a number of counterproductive driving behaviours, such as driving too slowly or slowing for unnecessary reasons. Additionally, anxious drivers are more likely to make mistakes whilst driving.
Ironically, it's therefore possible that people are so anxious about driving that they overcompensate in changing their driving behaviours, which in turn increases the likelihood of being in a collision, which then further increases anxiety.
A recent study by researchers from the Universities of Buffalo and Memphis in the US identified three distinct areas of driving anxiety.
The first aspect of driving anxiety is deficits in performance, such as finding it difficult to stay in the correct lane or forgetting the correct route to take. The second type of driving anxiety is exaggerated safety behaviour, mainly driving in an overcautious but dangerous manner, such as driving too slowly. Hostile or aggressive behaviour is the third type of driving anxiety, which might include shouting or swearing at other drivers when nervous.
The researchers then examined how each type of anxiety might be related to different aspects of driving behaviour. They found that people who tend to report deficits in driving performance due to anxiety, report being less skilled as a driver, avoiding driving and a tendency to become angry when driving.
Those who drive in an overcautious way are likely to avoid driving entirely, but report good driving skills and low levels of driving-associated anger. Finally, hostile anxious behaviour is, perhaps not surprisingly, associated with high levels of driving anger, but it's not associated with either driving skill or driving avoidance.
People may become anxious whilst driving either due to a traumatic experience or more simply because of their anxious personality tendencies. It's also clear that there are different aspects of driving anxiety and each of these is differently associated with driving skills and behaviours.
Whilst anxiety may appear to have a very negative impact on driving, it's important to remember that this is likely only to be true for people who have very high levels of anxiety already. For most people, low levels of anxiety and fear are actually necessary to maintain safe driving behaviours. If drivers had no fear or anxiety they would probably drive in a reckless manner and many incidents and collisions would occur.
For people who do suffer from extreme anxiety, there is help at hand. Targeted fleet driver training is the obvious way to improve knowledge, brush up on skills, boost confidence, and reduce the amount of anxiety experienced.
___________________
Dr Victoria Bourne  (BA Hons, DPhil)
Consultant to Driving Risk Management Limited